On Wednesday  11th July 2012 at 12noon I will be contributing to a JISC webinar What is a mooc along with David Kernohan, Martin Weller, Dave White and Jonathan Worth. My brief is to talk a little about the learner perspective based on my  own experiences with a few  MOOCs (massive open online course).
I though it might be useful to write down some thoughts in a blog post and share the link during the webinar as it provides some of the background that informs my thinking and links to further information.
My experiences relating to moocs
I'm lucky that my first experience of participating in a mooc was the fabulous University of Mary Washington UMW ds106 Digital Storytelling course.  I spent most of my non-work time last summer and autumn immersed in creative projects that really stretched my existing skills. I involved my family as well in some of them with our most enjoyable experience being the production of a pirate radio show. Briefly, the course covers digital literacies and digital idenitity within in a framework of digitial storytelling and I've written about the course and my experience in this post and made a video about digital literacies that includes a section on the DS106 course. The most notable outcome of this course was not the outputs or things we made but the strength of the community that I am still part of – I think this is because the course is not 'massive' in terms of numbers – although each instance of the course generates more '4lifers'. This screen shot shows just how my blog and life were taken over by this very positive personal experience…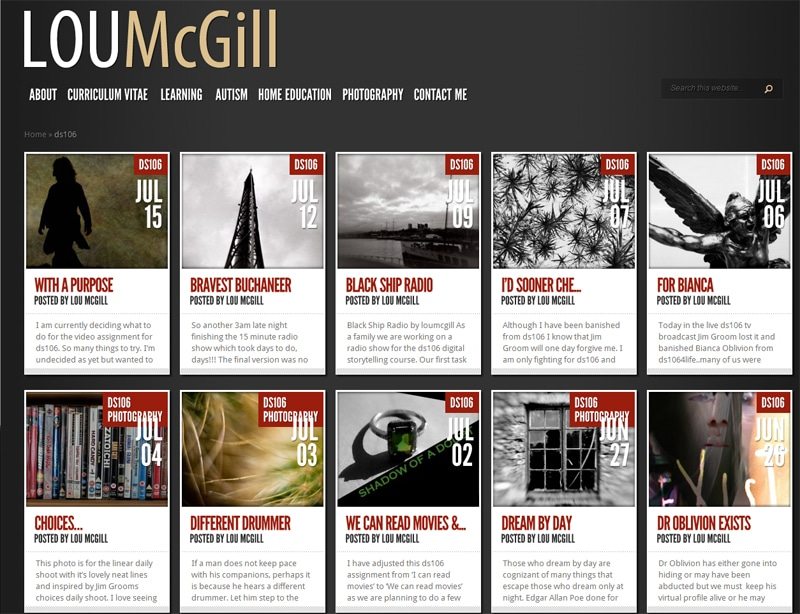 My next experience was with the change11 mooc facilitated by Dave Cormier, George Siemens and Stephen Downes. The course focussed on major contributions being made to the field of instructional technology. Each week, a researcher introduced their central contribution to the field. I signed up as a participant in this 9 month course and also worked with Professor Allison Littlejohn from Glasgow Caledonian University on her week around Collective Learning which happened in week 4 (after Martin Weller's week on Digital Scholarship). My engagement with this mooc (apart from the week working with Allison which was pretty intense) was a lot less than with the DS106 course.
Another connection with the change11 mooc is some work I am doing with Allison Littlejohn, Anoush Margaryan and Colin Milligan at the Caledonian Academy in Glasgow. We are interested in developing our understanding of learning in moocs and have been conducting a study of participants in the recent Change11 mooc looking at self-regulated learning practices. We are particularly interested in how mooc learners plan implement and reflect upon their learning goals, and how they draw upon other available resources, tools and other learners to support their learning.
My thoughts about moocs from learner perspectives
These are some of the things I hope we get to discuss in the webinar.
Motivations to engage
likely to be highly variable – at present many participants may be there to experience a mooc rather than focus on content
opportunity to experiment with learning approaches
open online courses can allow access to high profile academics that would otherwise be impossible. People can have conversations with leading thinkers in their field, wherever they are working in the world
opportunities to study with high profile institutions
opportunity to study alongside peers from around the world – exchanging ideas, practice and resources
new learning opportunities – other than paid courses with accreditation
Approaches to engagement – learner centred
can be difficult to let go of previous learning practices – may feel there is not enough support
provides an opportunity to try out much freer ways of learning
allows people to only focus on content, or on social networking aspects or both – control in the hands of the learners
Siemens steps to particpating – define goals, declare/define yourself, plan interaction, build network, manage information, create/share, fix problems, manage expectations, persistence
Support
course leader/facilitators may provide some technical support, some structure or framework, some assessment activities or mechanisms – or they may not
if a course is massive then learners may need to create/join smaller sub-communities for support – smaller groups may be a lot less intimidating – might be by sector, country, perceived level of experience and knowledge
Challenges
language differences – not only people from different countries but from different sectors
isolation can be a problem, as the loudest and/or cleverest voices can dominate
cultural differences particularly if particular genres are important such as TV, news media but also cultural centric ways of presenting content, discussing issues
responsibility – as a student on a mooc you are responsible for your level of contribution, time allocated to various activities – whether you engage with the content or the community or both. Course facilitators may provide some kind of framework for you to work in but choice is a significant aspect.
inequalities – are open courses only of value to people who already have high levels of capacity – prior experience of self regulated learning, confidence in their right to be there – ie not feeling like an imposter, which groups of learners benefit – what about those who are not equipped to deal with all the choice and control
technical and operational challenges – access, timing of sessions, formats of content
Which of these are also relevant in other learning contexts – many are valid for distance learning or informal learning contexts.
Why I am excited by open courses
The term moocs covers so many different types of courses that it almost becomes meaningless.  Many are not massive, structure may be imposed or not, assessment may be included or not, learners can be fully open or registered paying students. Perhaps just talking about open courses would be more useful. There are so many models – from the huge Stanford type courses to those which have taken an existing traditional course and invited open participants like the DS106 and the Coventry Open Media Classes based ones in the UK. It is this type of model for an open course that I personally find most interesting. This model may be more challenging for people to understand – with some participants paying for the course and receiving some form of accreditation and others just dipping in and particpating in a much less formal way. But for me the value that this brings to the learners is significant. One of the Coventry courses nicely illustrates how linking photography students with professional photographers  provides an excellent opportunity for authentic learning experiences – connecting their theoretical knowledge with practical 'real-life' input. It also helps learners create new networks with future colleagues and possibly employers and develop open portfolios to support their careers. Looking at some of the final reflection videos of the University of Mary Washington DS106 students reveals just how much their shared experiences with open students has enriched their thinking and broadened their perspectives.
If you are not convinced then I hope at least you might be intrigued by this model. It can present many challenges, not least with senior managers. If you want to hear what students themselves think then watch a few of these videos.
Opening up existing traditional courses to open particpants requires us to challenge some of our practice both as learners and as teachers. It requires us to cross boundaries, reconsider roles, share and connect, reconsider assessment practice, and convince managers that there is a value to the institution, it's staff and  students. It needs us to be brave and open.
---
If you are interested in the Glasgow Caledonian University studies into learners and moocs then do let us know. You may also be interesting in the following study:
Learning in Massive Open Online Courses (MOOCs) is a project undertaken by the Caledonian Academy as part of a PhD study. The project explores a) learning behaviours in a MOOC and b) learning indicators: traces we can find in a MOOC environment of the outcomes of the learning behaviours observed. The purpose of this study is to research how people participate in a Massive Open Online Course (MOOC) (i.e. behavioural, interaction and engagement patterns). By observing learning behaviours we aim to develop an understanding of how learning occurs through networks. Should you have any questions regarding the study, you are free to contact [email protected] for any additional information.