I recently authored some course modules for the Commonwealth Digital Education Leadership Training in Action (C-DELTA) programme.
C-DELTA course for Digital Education Leaders
I was working with the Centre for Innovation in Learning and Teaching CILT) at the University of Cape Town (UCT) in collaboration with the Commonwealth of Learning (COL). The conceptual framework underpinning these modules has been published.
There are seven modules in total aimed at Digital Education Leaders (DEL) in the Commonwealth.
A curriculum for digital education leadership requires two components: digital education and
leadership in digital education, with digital literacies as the basis for both. The two
components for the curriculum framework have been developed on the assumption that
before an individual becomes a digital education leader, that individual must first
demonstrate capability in the practices identified with digital education. In other words, the
assumption is that a leader should be able to walk their talk and can only lead if they have the
necessary knowledge in the "stuff" to be led. Hence, two linked frameworks have been
developed: one addressing digital education and one addressing leadership in digital
education. (Except from introduction, module 1)
I wrote the first three modules focusing on digital education:
Module 1 – Developing Digital Identities – working with appropriate digital tools and networks to enable people to create and manage online presences and footprints, and to exercise control over their expression of this digital identity (or identities). By implication, this involves negotiating pathways within contexts.
Module 2 – Mobilising resources – the processes of finding out which resources are available, which skills people need in order to acquire the necessary capabilities to draw on these resources, the development of understanding of how these resources are used in practice in their particular contexts, and the development of capabilities to evaluate, combine and create new resources.
Module 3 – Engaging with networks – interacting with networks in a manner that is meaningful and purposeful. This entails constructively sharing information, knowledge and resources. Understanding of the social media ecosystem to enable choices regarding where and how people can create online profiles, interact with people across different networks and build of personal learning networks.
The remaining modules focus on developing you as a Digital Education leader in order to work together with individuals, institutions, communities and networks to foster people's ability to live, learn and work in an evolving digitally mediated society by:
enhancing access — i.e., environmental considerations (Author: Liana Meadon)
making informed decisions appropriate to context — i.e., to choose from options in a given context and implement digital education (Author:  Derek Moore)
developing capacity in individuals, curricula and organisations — i.e., operational dimensions (Authors: Sandhya Gunness and Rubina Rampersad)
cultivating innovation — i.e. to reflect being a leader, foster collaboration and networks to accelerate innovation. (Authors: Cheryl Brown and Kershan Pancham)
The process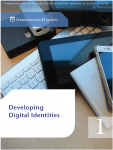 It was a pleasure to work with the CILT team and the other module authors. We worked in a collaborative and open practice way to share ideas and content as it was being produced. I really enjoyed working in this way and felt the whole course benefited from this approach.
These modules will be converted into moodle courses and will be made available by COL through close engagement with the governments of Commonwealth countries.