I am so uspet and weary today after nearly two months of doing everything I can to provide evidence to paypal about the ebay scam I described in detail in my last post. I found out today that they have dropped my claim to get back the £907.50 that I lost to an ebay scammer. This is what they said:
After careful consideration, we're unable to decide this claim in your favour at this time.

The documentation you provided didn't follow the guidelines. Supporting documentation must be from your local law enforcement agency and on letterhead that includes adequate contact information.
The latter refers to their request for a police report on headed paper. When I was asked to provide this I dutifully rang my police station to report the crime. The police took the details and gave me a crime reference number but when I asked for a report on leterheaded paper they informed me that they don't provide such reports. I explained that paypal had asked for this and that it may affect my claim. They suggested I pay for a copy of the incident report under data protection, which I did.
I uploaded the document to paypal. They responded that this wasn't the kind of report they wanted. I went back to the police and so on and so on…. so after endless emails and telephone calles and visits to the police station in the next town I still could not get a report from the police. I explained to paypal that I couldn't get another report and they close my case.
It is really galling that the scammer gets away with stealing my money because despite all my efforts I can't provide a report in the format paypal want. It does  appear to be a way for paypal to escape refunding my money.
Like most people I can't afford to lose that much money. Like most people I use paypal and ebay to ensure that I get buyer protection only to discover that I actually have no protection whatsoever.
I have seen that the seller (willgardner11 aka timothy mccarthy clarke aka bastard) now has feedback on ebay that shows he has done this to others. I pointed this out to paypal who disregarded it. They say they can't take any evidence from ebay as they are separate companies. So even though other people have had the same envelope scam they can't consider this; even though I have an email from the seller in the ebay messaging system saying that the tracked item was not the computer they can't consider this, even though I have sent them a photo of the item with the tracking number on it (clearly not a bloody laptop) they can't consider this.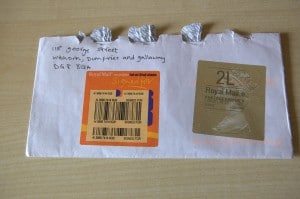 GRRRRRRRRRRRR – Thanks a bunch paypal – here's adding to the mountains of bad publicity you get – you deserve it!
In one of the 16 emails they sent me in response to my messages they did ask me if I would tell all my friends about their service so here we are – this is me telling all my friends just how crap paypal is. I hope you will all SPREAD the word!
I am setting Barclays onto you now; )