One of the ds106 assignments is to produce an image by averaging photos in flickr according to a concept. Timmmmyboy has produced a great tutorial which uses photoshop.  I have made some of these several years ago (2006) – the first one by accident when I was using picasa. I had accidentally selected 40 inmages instead of 5 when I was making a mosaic. I will explain this later as it is a free service and very simple to use – a great alternative for those who don't have photoshop.
After a bit of experimentation I produced several of them – I like using a mixture of portrait and landscape image as it makes interesting frame effects.
This one is on flickr and was made from photos of a trip to China – called palace of dreams – which has a faint vision of the summer palace pagoda…

This one was more abstract and made from a range but I liked the square frame it made

Anyway I thought I should also do the assignment properly with other people's photos so I followed the tutorial and used bulkr to connect to flickr and download the first 50 photos into a folder.
Then I opened picasa and it automatically found the new folder. If you are doing it for the first time it can take some time for it to find all your photos – however the tool is a great way to view and organise your photos…
You can use the menu to 'add folder to picassa' – so this is probably the easiest way…
I then selected all the photos in the folder using ctrl and shift – see in this screenshot how they are shown in the bottom left corner…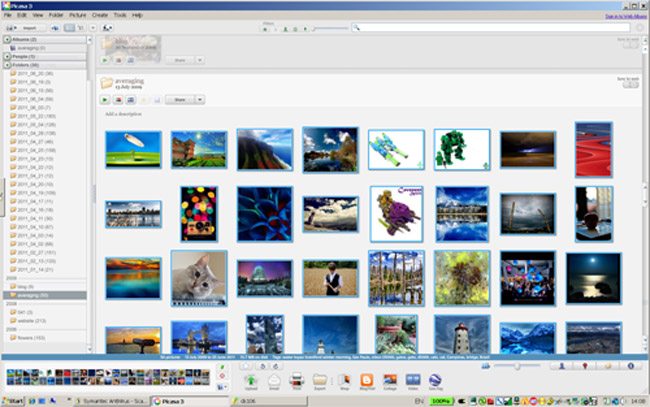 then click on the collage button at the bottom to the screen (three from the left).
On the next screen click on  the multiple exposure option at the bottom of the settings menu…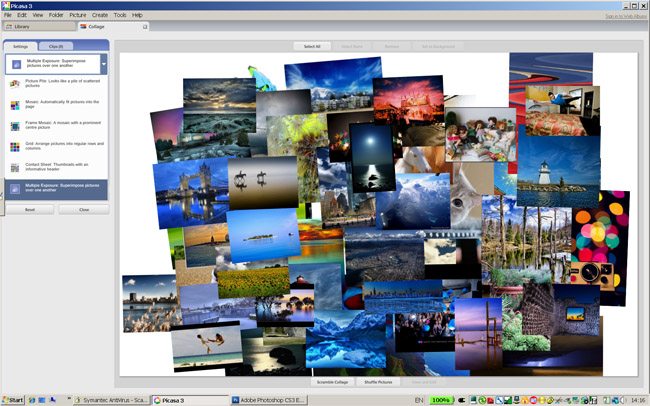 The screen will then show you your averaged picture – click on create collage and it will be saved – this can take a while.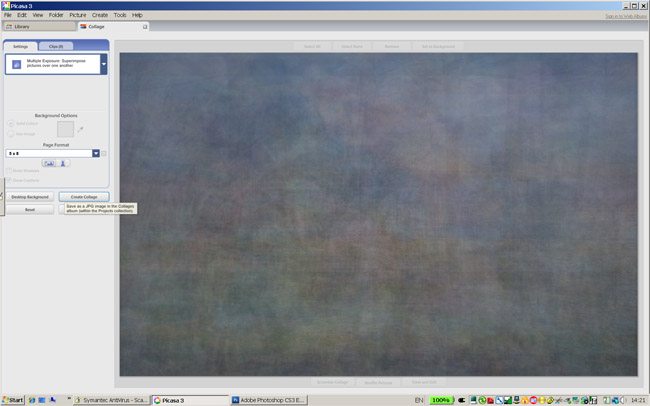 And here is the finished result…. Hope the screenshots are helpful…
It's called blue… (the search term I used to find the images) and it's in flickr.
This has definately made me want to do more..
One way to take this to another level is to use your image as an overlying layer in another image… I did this in photoshop by adding a new overlay layer on a favourite photo of my dad. It adds subtle depth and texture…see the photo at the top of this post…