I have been working for Jisc over the last few months to produce a new framework for digital transformation in higher education. This was a big piece of work which involved working collaboratively with a review group made up of representatives from a range of higher education sector bodies. These were: Advance HE, Association for Learning Technology (ALT), Association of University Administrators (AUA), Association of University Directors of Estates (AUDE), Quality Assurance Agency for Higher Education (QAA), Society of College, National and University, Libraries (SCONUL), Universities and Colleges Information Systems Association (UCISA), Universities UK (UUK) and Vitae.
The framework is aimed at senior leaders, managers and change agents with responsibility for supporting digital transformation. It offers a structure to help organisations lead strategic vision and planning, foster innovation, streamline business processes and operations, and develop partnerships for collaboration. It highlights how policies and processes might align to promote cross team approaches to reduce complexity and fragmented processes.
One of the things that distinguishes this framework from other digital transformation models is that it takes a knowledge practices approach. It takes the emphasis away from technological or business process approaches and puts the focus on what people do and on the organisational culture change needed to enable digital transformation.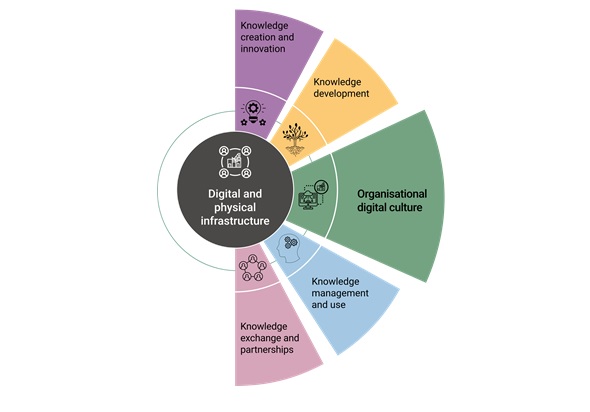 Elements of digital transformation
In addition to the need for an underlying digital and physical infrastructure and developing the overarching organisational digital culture, the four core knowledge practices focus on the wide range of activities, experiences and practices of an HE organisation.
• Knowledge creation and innovation
• Knowledge development
• Knowledge management and use
• Knowledge exchange and partnerships
For me, one of the most important aims of the framework is to help organisations see patterns, links and synergies across traditional boundaries, and encourage ownership and engagement of all stakeholders. It includes critical factors to achieve digital transformation such as the need for leadership, strategic vision, appropriate investment, equity, diversity and inclusion, sustainability, stakeholder engagement, security and safety, international activities, staff training and development, and digital wellbeing.
The framework is produced as an interactive pdf document so that people can link through to different sections and has a lovely index to help highlight that many of the critical factors and principles occur in several sections (such as sustainability and inclusion). The framework structure highlights the importance of using information and data intelligently, building on existing collective wisdom, and also emphasises the impact of knowledge creation, innovation and exchange in a global setting through collaborative social and learning networks. The framework can be used to break down various elements of digital transformation activity into achievable goals and actions.
Ongoing work at Jisc will produce further materials to help organisations make best use of the framework and over the next few months I will be working with a review group of experts to produce a maturity model for digital transformation!